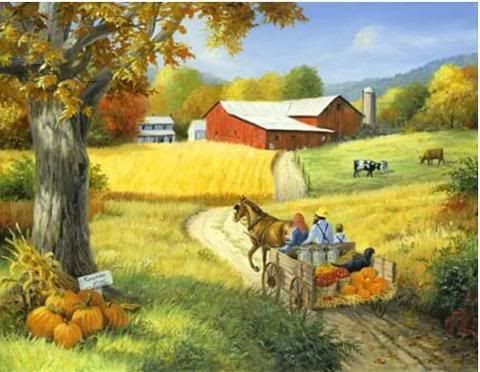 You know, in just a matter of a handful of weeks now, Autumn will officially start.
I get rather melancholy this time of year. Every year it's the same thing. September begins and I start thinking with excitement about things...
combines harvesting the fields,
fertilizers being spread on those large farmsteads,
cooler evenings,
the surprise of a cool breeze during the day,
air conditioners being used less and less and windows opened with softly blowing curtains around them,
apples ready to harvest,
pumpkins starting to perk p for picking,
leaves slowly beginning to turn all those magnificent colors of deep rust, brighter red, rich orange and brilliant yellow,
the gathering of firewood for that first lighting of the woodstove,
those wonderful autumn smells...
ever notice how pies and breads just smell so much better, so much more homey during the autumn than they do in the summer?
the starting of school and those big yellow buses rolling along the lanes early morning. No, my children aren't riding a bus, but there is just something that touches my heart and says autumn, in a nostalgic sort of way, about those yellow buses on the road after a summers' absence.
There are preps being made everywhere it seems...
folks are finishing off larger portions of their gardens and clearing them for a winter rest,
chickens are growing and seem to know time is limited for gathering those bugs and greens before the snow flies,
barnyards are freshened and hay mows filled with the last of the hay harvest before winter.
There are just smells and actions that speak autumn all over.
But, it's a bittersweet time for me. I miss all those things I've just mentioned. I know it's all a state of mind, really, but I have not been able to wrap my mind around a changing of seasons since moving here. Everything stays so green...and so wet...this time of year around us. I can pull out the autumn colors in flowers and garlands to decorate the house and give an illusion of autumn, but it's just not in my heart. I am just too wrapped up with seasonal changes.
Yes, I have so many friends here in the South who would argue vehemently that there are changing seasons here, and there is a definite autumn. I guess my trouble is, I only know one kind of autumn in my mind. It's the only one I've ever known. It's hard to change a vision that is ingrained in a nearly-40 year old mind.
So, this weekend, we are going to try to bring autumn to the homestead. I am gathering the fall fabrics to tuck here and there on a table, along a bookcase and near an oil lamp. I'm putting up a simple garland of flowers...all those beautiful rich tones I so love this time of year. We will be doing our evening devotions with the lanterns lit instead of the regular lighting...sort of creating that cozy feeling that autumn brings with it.
My eldest daughter says that's fine...as long as I don't crank up the a/c so we all have to don sweaters and thick socks to really bring that feeling of autumn to real life!
most art shown from AllPosters.com